Reunions
2010
On July 18th, 2010, the American Fighter Aces Association (AFAA) hosted the Hell Hawks for a symposium. Eleven of the original Hell Hawks were treated to a weekend in Vacaville, CA. The symposium was a success for everyone involved. Their stories, to this day, elicit gratitude and awe from the audience.
The Hell Hawks wish to extend their extreme gratitude to the AFAA for a weekend of great memories and a once in a lifetime opportunity. The friends we made throughout the weekend will forever be with us. Special thank you to Mark Pieschke who went above and beyond the call of duty to make this weekend happen for the Hell Hawks.
Click here to link to KFBK.com and listen to an interview with co-author of Hell Hawks!, Tom Jones, and radio host, Kitty O'Neill done prior to the symposium.
The group had a wonderful time together once again. We had over 70 in attendance and 13 of those were original Hell Hawks. The rest was comprised of offspring, some of them having never met their relative that was a Hell Hawk. The presence of the offspring and the dedication of the Hell Hawks to their group and service doesn't allow for Hell Hawk gatherings to be anything but a learning experience for everyone.
Wednesday September 29, 2010- Cocktail Reception Party
Thursday, September 30- Tour of Westpac Restorations
The Hell Hawks received a warm welcome from Westpac Restorations as they toured the facility and saw many vintage aircraft in various stages of repair or restoration. Several Hell Hawks were even treated to a ladder climb and into the cockpit of a P-47! A HUGE thank you to Bill and Debi Klaers for allowing us this opportunity!
The United States Air Force Academy hosted a ceremony for the Hell Hawks where a certificate for the efforts of the Hell Hawks during the Battle of the Bulge was presented back to the AFA. The ceremony was complete with a flyover of three P-47 planes.
The Hell Hawks attended the In Their Honor Air Show all day on Saturday and were entertained by many fans of the Hell Hawks as well as aircraft including the three P47's. Paratroopers came down and joined the Hell Hawks afterwards in their tent and exchanged stories.
2008
Ten of nineteen orginal Hell Hawks that attended the 2008 reunion.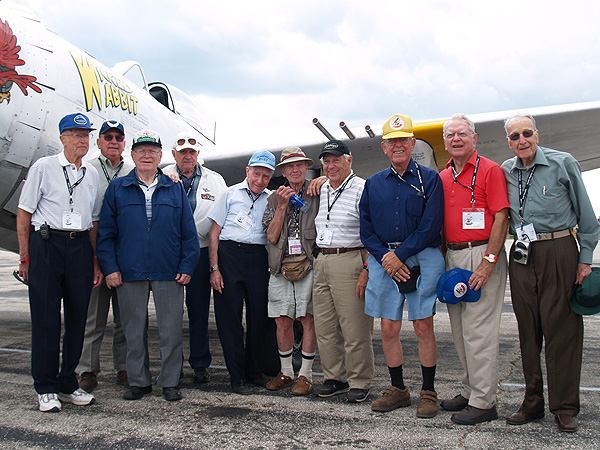 Pictured from left to right: Laverne Alcorn, Ralph Kling, Paul VanCleef, Neal Worley, Frank Luckman, Al Mundt, Bob Hagan, "Stig" Franzen, Jay Harrington, Carl Riggs.
Read More about the 365th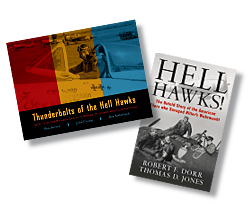 Thunderbolts of the Hell Hawks
(Barnes, Crump and Sutherland)
320 pages, 500 photos and 98 illustrations of the group's P-47s.


Hell Hawks!
(Dorr & Jones)
The story of the band of young American fighter pilots, and their gritty, close-quarters fight against Hitlers vaunted military. The "Hell Hawks" were the men and machines of the 365th Fighter Group.